'The Other Side' is the third studio album by Melanie Martinez.
Tracklist
Cut Songs
Background and Promotion
Melanie began working on th album late 2019 and it was finished in 2020. The film was written after the album, and was filmed late 2020. Melanie released the album on April 28th, 2021, released on her birthday because she 'wanted to have two things to celebrate at once. The album cover and tracklist were leaked on December 30th, 2020. A EP, Night Mime, was released to promote the album.
Characters
Cry Baby
Angelita
Lillith
Ben
Caleb
Tristan
Magnolia
Celeste
Fleur
Kelly
Lucy
Big Bad Wolf
Alphabet Boy
Molly
Gwen
Rosalind
Film
A film was released to accompany the album. It was released the same date as the album. Like K-12, the film was only availble on YouTube a month after it's release. After that, fans had to pay to watch it.
Trivia
Where do Babies Come From? was leaked on January 3rd, 2020, but it was only the demo.
Melanie's favourite song from the album is Candy Clouds.
Singles
Candy Clouds was the first promotional single, released March 13th, 2020.
Until Sunrise was the second promotional single, released June 29th, 2020.
Liar, Liar, You're on Fire was the third promotional single, released November 2nd, 2020.
All My Demons was the fourth promotional single, released February 7th, 2021
Fake Tears was the fifth and final promotional single, released March 19th, 2021.
Tour
The album had a tour to accompany it, which was split into three parts: The Other Side Tour: Part I, The Other Side Tour: Part II, and The Other Side Summer Tour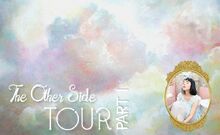 Community content is available under
CC-BY-SA
unless otherwise noted.