WIP
CURRENTLY OWNED BY MILKBREAD.ARTS
"Empty" is the third studio album by Melanie Martinez. Melanie began working on the album in 2020 and finished it in 2024. It was released on February 18th, 2025. The Japanese edition was released on July 24th, 2027 including two bonus tracks.
An expanded edition of the album was released on August 30th, 2025 including revamped versions of the songs from the standard and Japanese edition, two bonus tracks.
Melanie embarked on the Empty Tour, beginning in August of 2025 in support of the album.
Tracklist
Empty - Martinez
Zodiacs - Martinez & Dusk
Wishing Well - Martinez
RING AROUND THE ROSY - Martinez & Bean
Blue, Pink & White - Dusk (feat. Martinez)
Royalty - Bean (feat. Martinez)
Lavender - Martinez
Can't buy love - Martinez
Take Me To The Lovers Pond - Martinez
Barbie Doll - Martinez
Tower Of Change - Martinez, Bean & Dusk
Scrapped Songs
Turn the TV Off
Empty Screams
Background and Promotion
Melanie began working on this album in 2020 and finished in 2024. She wrote the album songs between 2017 and 2019. Melanie included two songs on the album Pink, Blue & White and Wishing Well that were scrapped from her first studio album Crybaby.
On February 16th, 2020, and October 5th, 2020, Melanie posted two videos of her dancing to songs that nobody had heard on Instagram with lyrics on both captions.
On August 17th 2022, Melanie had posted a photo of her and little known singer DUSK with them both sitting with Zodiac signs around them, many speculated that they were working on a song together, but Melanie had spoken of no new album.
A few weeks after that, Jazmin Bean posted on their Instagram a picture of DUSK, Martinez and Jazmin, standing in a castle, to be precise, a tower. Many were now fixated on them all making a new album.
Months later, Martinez dropped a teaser to a song, many of listeners were trying to leak the whole song, but it was covered up quite well, later on it was found those songs were, RING AROUND THE ROSY and Blue, Pink & White.
Later on in an Interview, she stated that the Album was more about herself and people around her more than her character 'Crybaby'.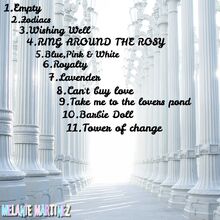 Community content is available under
CC-BY-SA
unless otherwise noted.